Please note: the following advert is being posted on behalf of the London Hearing Voices Project at Mind in Camden. Please get in touch with Mind in Camden directly to enquire about this opportunity. Thank you.
Temporary London Hearing Voices in Prisons & Secure Units Project Manager
14 hours per week, £11,290 – £11,949 pa, initially 4 months (August until November 2014)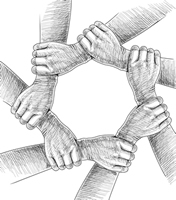 The London Hearing Voices in Prisons & Secure Units project is a unique project with a national and international reputation. Launched in 2010, it was set up with the challenging aim of establishing a sustainable network of Hearing Voices Groups in London's prisons. There are now 6 Hearing Voices Groups in HMP Holloway, Wandsworth, Pentonville, High Down & Gartree with a number of other groups in development.
The core belief of this project is that it is more effective to build capacity within the prisons to develop groups than to provide them as external agencies for a limited time period. We are interested in culture change, so as well as co-facilitating a limited number of groups we spend time mentoring and training prison staff to better support people struggling with voices in secure services.
We are currently funded by a combination of charitable trusts and income from training, and our current remit includes supporting the development of groups in selected regions outside of London between 2014-2017.
The prison project is composed of a 14 hour per week manager, 14 hour per week development worker and some volunteers/sessional workers as required. The project is one part of the wider London Hearing Voices & Beliefs Project, including: Voice Collective youth project and the London Paranoia & Distressing Beliefs Network. It works alongside Mind in Camden's Phoenix service and our Minor Tranquilliser Support Service (REST).
This post is cover pending decisions on the management structure and the advertisement of a substantive post.
The Role
The successful candidate will manage the Hearing Voices in Prisons & Secure Unit project, including a 14 hour per week development worker and a small team of volunteers / sessional workers. They will take a lead on the projects development, ensuring that it meets the targets agreed with funders to develop Hearing Voices Groups and provide training. They will work with the development worker and volunteers to ensure the ethos of the Hearing Voices Network remains central to all Hearing Voices Groups within the project, liaising with partner agencies to help embed the approach within institutions. They will ensure up to date records are kept of activities, and support the development worker to provide training and mentoring to group facilitators and prison workers on 'hearing voices' and related topics. Subject to prison vetting, they will have the opportunity to co-facilitate Hearing Voices Groups when required.
Skills and Experience Needed
The successful candidate will have the following knowledge/skills/experience:
Knowledge/Understanding
Clear and in depth understanding of the Hearing Voices Network approach to voices/visions.
Clear understanding of the principles & practice of Hearing Voices Groups
An awareness of some of the challenges facing people who hear voices in prison
A clear understanding of equal opportunities and how this relates to this project
Knowledge of the provision of mental health services in prison/secure units (essential) Experience
Providing line management or supervision to staff or volunteers • Facilitating groups or networks
Working in mental health services for at least 2 years (in a voluntary or paid capacity)
Developing and delivering training courses or workshops
Developing projects or initiatives (in either a paid or voluntary capacity)
Facilitating Hearing Voices Groups (desirable)
Attendance on Hearing Voices Group Facilitation Training (desirable)
Lived experience of hearing voices, seeing visions and/or other unusual perceptions/beliefs (desirable)
Experience of working in forensic, prison or related services (desirable)
Skills
Excellent written and spoken communication skills
Ability to deal calmly with conflict and challenges
Ability to work with groups from different backgrounds, cultures & professions
Project management
Excellent organisational skills
Excellent problem solving skills and the ability to work flexibly to overcome challenges
Developing & delivering training courses/workshops
Self-reflection and awareness
Intermediate or above computer skills
The ability to use your personal experience of voices/visions to inform your work (desirable)
If you would like to apply for this post:
Send your CV and a personal statement outlining how you meet the requirements of the post(as detailed above). Most weight will be given to the personal statement and the CV itself is for background information.
Personal statements must be limited to 2 sides of typed A4 paper (minimum font size: 11pt). Illegible applications, or those that exceed 2 sides of A4 will not be considered). We will then short list applicants on this basis, inviting successful applicants to an interview.
Deadline for applications: Monday 14 July, 3pm
Interview: Wednesday 23 July
Send your applications (CV, personal statement and Equal Opportunities monitoring form) by email or post to:
Rowena Dean, Mind in Camden, Barnes House, 9-15 Camden Road, London, NW1 9LQ
Email: rdean@mindincamden.org.uk
For more information about the requirements of this post, email Rachel Waddingham,rwaddingham@mindincamden.org.uk.
Please note: People with a disability who meet all essential requirements are guaranteed and interview. If this applies to you, please make this clear in your personal statement/covering letter/email.
Download:
2014 Temp HV Prisons Manager – Job Information
2014 Temp HV Prisons Manager – EO Form
Booklet: Introduction to Hearing Voices Groups in Prisons & Secure Units